Features
Easy-to-use adhesive backing means no tools to apply to packaging
Attention grabbing sign to help prevent mishandling
Tamper-proof design
Available in a wide range of sensitivities
Tested for use in multiple environments
Label fragile items
Another way you can label your products to deter people from mishandling your products is by displaying warnings that your product is fragile. We like to think that a "Fragile, handle with care" label will prevent somebody from being careless when handling your package. A "fragile" warning label shouldn't be overlooked, it only takes somebody to drop your product once for it to break.
Labelling of products is an often-overlooked aspect of packaging protection, but they do help. We promise. Take a look at our range of warning labels.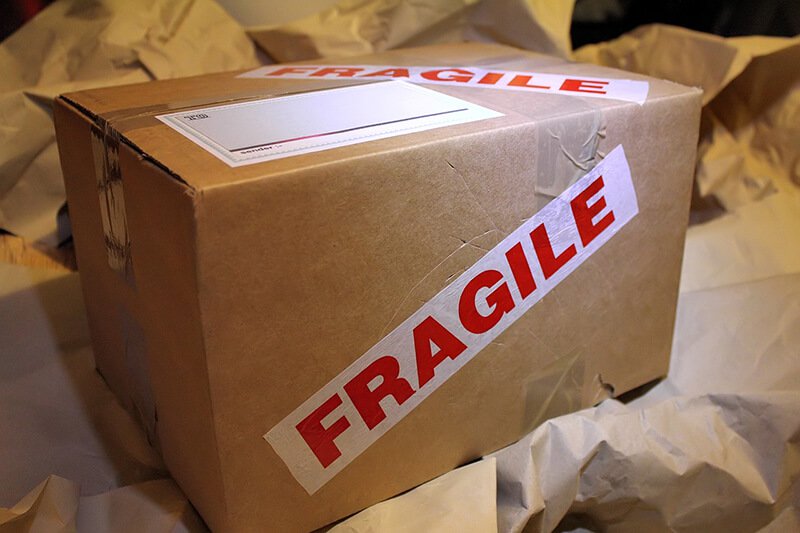 Seal with a strong, high-quality tape
A mistake that often happens is that a company goes for the cheapest tape instead of the most suitable tape. Yes, you may be saving some money by choosing a very cheap tape, and especially when using a lot of it. However, a cheap tape is usually of low quality, meaning it won't hold for very long, especially in harsh temperature conditions. A strong tape can prevent products escaping from their packaging and being damaged.
If you're looking for a strong, high-quality tape, we recommend using reinforced gummed paper tape. It's strong, temperature tolerant and tamper-evident. Oh, and I forgot to mention, it's eco-friendly as well. If you want to discover more about this tape, check out our complete guide to gummed paper tape.
Conclusion
If you have a lot of damaged returns and want a solution as soon as possible, contact us today. Our packaging experts can advise on what your packaging needs for optimum protection.