Swiftpak - Leading the Way in Packaging
Swiftpak is a privately owned packaging supplier based in Reading, Berkshire specialising in a complete packaging supply service. With the ability to hold significant quantities of standard and bespoke products, we can guarantee next day delivery via our own fleet of trucks, to a wide range of industry sectors throughout the UK.
At Swiftpak we are leading the way in the packaging industry, by consistently setting new standards in three core areas that matter most to our customers. Product, process and service.
Product
Keeping a healthy stock of high quality fit for purpose products while continuously looking to the market for innovative new technologies and products to ensure you are always using the best available product for your specific packaging needs.
Process
There is more to packaging than products and we are more than just a packaging supplier. We ensure we are always driving efficiency in the way we work to better serve our clients. We make it a part of our business to serve as advisors to help and guide in recommending and implementing the best processes for your packaging operation, to ensure you are always getting the most from your time, money and products.
Service
We are committed to always providing the best possible service to all of our clients and are always looking for ways we can improve to make your job easier. We offer an impressive standard service offer to all of our customers as well as tailored packages and services to suit the individual needs of your company.
To guide us we have developed a service commitment to our customers so that you know what to expect from us and keep us focused on what matters most. This is our promise to you: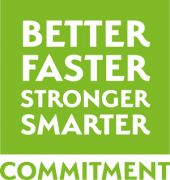 Better
Setting new standards in - Products and Solutions.
We only sell and stock high-quality packaging products and our expert knowledge and 30 years of experience in transit and industrial packaging means we know what works. We know how to protect and present your product in the most efficient and effective way and our job is foremost to advise. If there's a better solution out there we know about it or we will find it.
Faster
Setting new standards in - Delivery and Response times.
We pride ourselves in our rapid response rates in everything from answering the phones to dealing with enquiries, providing quotes and our next day delivery service.
Stronger
Setting new standards in - Relationships
Understanding our customers is key to our business. Your success is our success, so we commit to working closely with all of our customers to identify and manage your specific needs no matter how unique.
Smarter
Setting new standards in - Choices
You need your business to run as efficiently as possible and where packaging is related it's our job to ensure it does. We pride ourselves in creating and developing new and innovative solutions and products making your job easier and your packaging operation run as seamlessly as possible.
We are an environmentally responsible company and helping you to reduce your packaging waste and make smarter choices comes as second nature to us, all while balancing the need to ensure your products are effectively protected and cost-effective.
Our purpose built Online Packaging Management System gives you full access and control of your products, orders, quotes and invoices 24 hours a day at the touch of a button…Keeping track has never been easier!
With our ISO 14001:2015 and ISO 9001: 2015 environmental standard and quality certification we are committed to maintaining the highest standards at every level of business – We source and recycle responsibly and the safety of our staff, customers and the environment is paramount. Our products are designed and manufactured to the most exacting demands and our 98% 'on time and in full' record speaks for itself.
Our whole business is geared around making packaging work for you, making it easy to manage and administer, fulfil its best purpose of protection and presentation and to do it efficiently and cost effectively - allowing you to focus on other important business areas with peace of mind.